Pradhan Mantri Mudra Yojana (PMMY) | Finance Scheme
Pradhan Mantri Mudra Yojana is called as PMMY and the scheme launched by the Honorable Indian Prime Minister Narendra Modi. This scheme provides the loans for the small borrower to borrow from all public sector banks, cooperative banks, foreign banks, private sector banks, Micro Finance institutions and non-banking finance companies
The Indian Government launched the MUDRA (Micro Units Development Refinance Agency) to promote the small-scale industries. This scheme was launched 2015 8th April.
Who can apply this Pradhan Mantri Mudra Yojana?
Any Indian who want to start a business for nonfarm sector income generating activity like trading, processing, manufacturing etc. Under this scheme, MUDRA banks offer loan for eligible candidates. And the maximum limit of the loan amount is Rs 10 lakhs
Know types of loans under Pradhan Mantri Mudra Yojana:
Pradhan Mantri Mudra Yojana provides the different types of loans for people. Under the aegis of Pradhan Mantri, MUDRA Yojana has created the below-mentioned schemes
Shishu loan: Here people get the loan up to Rs 50,000
Kishor Loan: The loan covers above Rs 50,000 and up to Rs 5 lakh
Tarun Loan: Here you will get the loan above Rs 5 lakhs to Rs 10 lakh
So based on your loan amount you can select the loan type. This Pradhan Mantri Mudra Yojana there is no subsidy for the loan. If the loan is linked to some government scheme then the capital subsidy is provided by Government.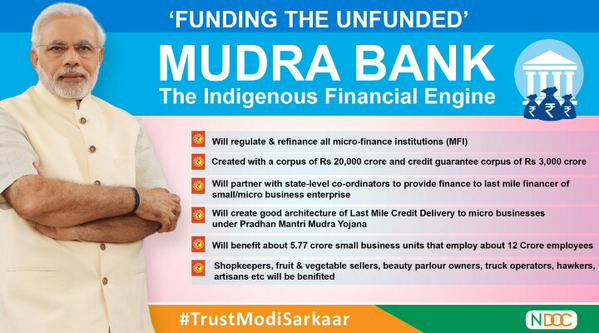 Mudra Loan Interest Rates:
Under this, there are no particular fixed interested rates. And the interest rates vary between the different banks. Normally bank interest rates are depending on the risk of applicants business.
Normally the interest rates for Shishu stage is 10% to 12 %, Kishor stage is 14% to 17% and Tarun starts 16% (and it is different from bank to bank)
Which documents you have to submit for Mudra Loan:
Address proof
Business address
Identity proof
For above Rs, 2 lakh loan then submit the project balance sheet for upcoming 2 years
MSME/SSI registration forms
Income tax/sales tax returns (recent 3 years balance sheets)
If business premises are on rent then the rental agreement
Steps To Apply for Pradhan Mantri Mudra Yojana Loan:
Applicant visits the local branch of the financial institutions like regional banks, PSU banks, cooperative banks, private banks etc. Then submit the required documents and business idea along with the application form. And follow the bank instructions and loan will sanction that make available for loan seekers
About Pradhan Mantri MUDRA Yojana loan:
There is no processing fee
No collateral
And the repayment period of the loan is extended up to 5 years
Applicant should not be a defaulter of any financial institution/Bank
About MUDRA Debit card:
The Indian Government provides loans for MUDRA Yojana and it also provides the Rupay debit card. This card acts as the similar to debit card manner. The person will able to spend the 10% of his loan currency with this money card.
The main purpose of the MUDRA card is to fulfill the requirements of working capital of businessman so that they can pay daily business expenses for business through card also reduce interest cost.
Helpdesk details for MUDRA loan:
If you face any problem then contact the below-mentioned numbers
Phone numbers: 1800 180 1111, 1800110001
Website: http://www.mudra.org.in/
Mail ID: help@mudra.org.in
Also Read: Pradhan Mantri Vaya Vandana Yojana – PMVVY